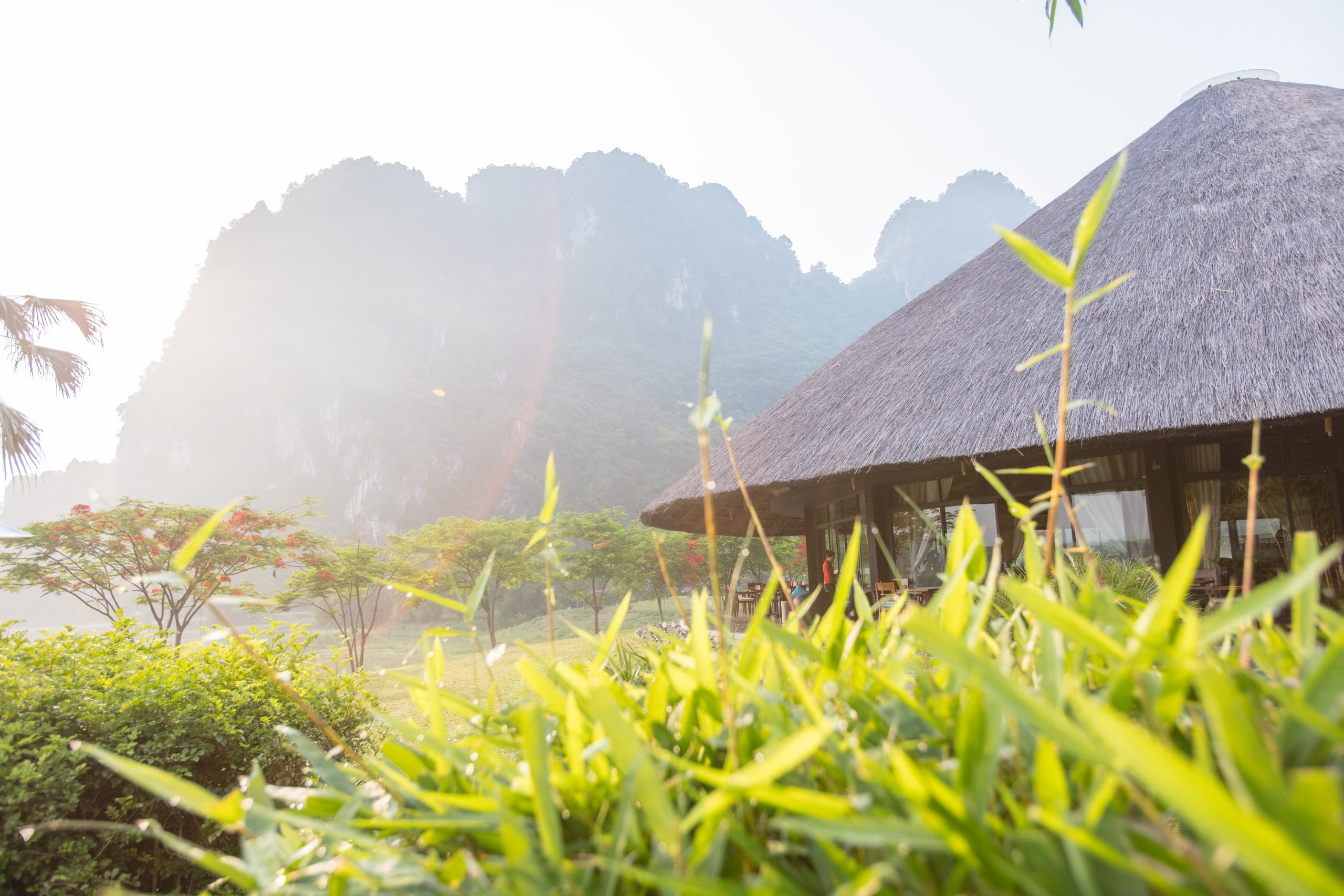 SERENA RESORT KIM BOI – VALUE WITHOUT WILD
Not only the waves of the sea and the sandy shore under the tropical sun evokes the desires for travel and rest every season. The sea calls seasons, but the mountains call all year round. Sinking in the midst of cloudy peaks, hanging behind a rainforest, or quietly in the middle of a deserted valley… the high-rise resorts are destinations full of charm and emotions.
The country is a cultural space hidden in the immense beauty of nature and people. Sao Bay valley (Kim Boi – Hoà Binh) is one such place. Shrinking by the Boi River and nestling in the shade of the magical limestone mountains, Serena Resort Kim Boi, a 4-star resort is the treasures of nature that nowhere have.
Waking up in the bush on the shore
The Boi River has a small branch flowing fermented by the resort, like a scarf of a Muong girl, soft and charming. Whether you wake up in any of the 76 Executive rooms, you'll be picked up by the dawn from the Boi River because they're all designed with a large balcony facing the river. Just pull the curtain is the blue of the mountain, the dawn has flooded the door frame like a fascinating nature painting. And surely, you'll be awakened by the noise of bushes rising up from the lawns along the stream and the sound of wild birds roaring in the valley. Thousands of fragrances of flower leaves out there can't get your feet in the comfortable room but thicken the cultural identity of the wall for a minute.
Before the sun rises from the mountains in front of you and spreads the sun everywhere, plunge yourself into the damp water of the outdoor mineral bath. Don't forget to reward yourself with a glass of Serena lemon water mixed with honey forest Hoa Binh right at the underwater bar… to give your body a new day. On cold days, the indoor bath with a temperature of 40°C is a great experience. However, you should only swim and soak yourself within 30 minutes, enough for the minerals of the precious water source to activate, soothing the body.
It can be said, with precious natural mineral heat sources, 2 hot and cold mineral tanks invested very thoroughly in design and landscape, Serena resort Kim Boi has entered its name in the list of top resorts in the North, although it has been in operation for less than a year.